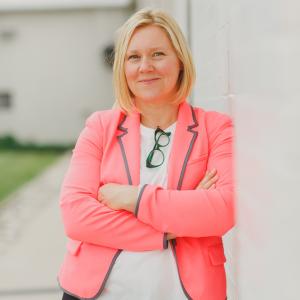 frances hahn
Artist member since 2018
Guelph, Ontario
Frances studied English Literature and Art History before teaching for a year in Italy where she fell in love with design. A graduate of Environmental Design at the Ontario College of Art and Design in Toronto, Frances worked in architectural offices since from 2003-2012. Currently, she is faculty at OCADU in Environmental Design. She is a partner at Necessary Arts Company, a coworking space for creatives in downtown Guelph Ontario, where she paints. As a lifetime doodler in watercolour, Frances made the switch to acrylic and oil in 2013. Sometimes described as dream-like, her pieces depict people engaged in pastimes and imagined landscapes. Reality and fantasy mingle as simplified forms and amplified colours.
---
Which piece of art you've created is your favourite, and why?
I painted a piece earlier this year titled, "Fuck You" that managed to communicate my intent more directly than any other. The client who purchased the piece named it.
What kind of artwork do you have in your home?
Colour is always a huge draw for me, but mostly I buy (or trade) art that is unlike anything I make: detailed pencil drawings, classical portraiture and photography.
What artists do you admire right now?
I'm crushing on Kristy Blackwell and American Painter Michael Carson. I get lost in the landscapes of Mel Gausden and Australian Richard Claremont. And Minnie Pwerle. And the cleverness of Susanna Scott.
What places do you hang out in Toronto?
I teach at OCADU so lots of spots around there, but my heart will forever be attached to Dufferin Grove Park
Why is it important for people to have art in their home or life?
Art has the power to be densely meaningful and at the same time provide joy and levity. There's little else that can compare.
Why is art important to you?
Only way to make sense of all the tiny pieces of stardust spinning around the sun.
Select Past Exhibitions
2018
Better Living Centre, Toronto
The Artist Project
2017
Vancouver
Object Handmade
Education
2003
OCADU
Environmental Design